Looking for Fast Casual Delaware ?
Franchisees Benefit from a Strong Fast Casual in a Fast-Growing Segment
Zoup! began as an idea the company's founders pondered as they were building their first soup-related food service business. Now they have grown into a huge Fast Casual success.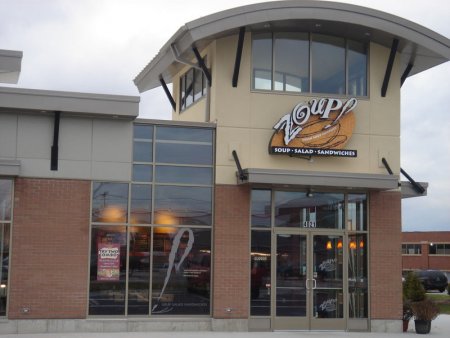 That original company – which manufactured and distributed wholesale soup and spice products – gave the partners kitchen-door access to some of the top chefs and managers at hundreds of restaurants. And, it gave them the chance to confirm what they suspected all along. First, that good soup…really good soup was hard to find. Second, that soup has powerful intangible qualities that elicit feelings of comfort, warmth and well-being for many people. And, that there was a strong demand in the marketplace for the kind of authentic, hand-crafted, fresh soups that customers love to eat, but seldom cook for themselves.
Encouraged by the enthusiasm of the many chefs they spoke to – and armed with their industry experience (and intense love of soup) – the founders teamed up with a talented chef. Then, they got to work on the careful trial-and-error process that involved hundreds of recipes and scores of tasters who completed formal evaluations of each potential recipe. If you are a looking for a Fast Casual Delaware then you have come to the right place.
With the same "Everything Matters" philosophy that ensures quality, satisfaction and convenience for our customers, Zoup! has created the infrastructure, systems and support programs that give franchisees the tools they need to build their own successful businesses.
The best candidates will have a high degree of personal integrity, an entrepreneurial spirit and strong desire to succeed. Franchisees must have a proven ability to motivate and train employees as well as manage finances. A passion for the culture and product also are key. Restaurant experience is not required.
Profitability varies depending upon a number of factors including; sales, labor and food costs, location, occupancy and operating costs. Also, on your ability to manage and control the business. In our FDD (Franchise Disclosure Document) you will receive average sales figures for current Zoup! locations. Food and labor costs on the corporate owned and operated Zoup! locations are also included.
Zoup! will direct you to an approved real estate broker who is familiar with your market. You and the broker will explore the market and do an analysis of the best sites. You will submit your favorite sites for approval and our team will review the location and determine whether the proposed location meets Zoup! standards.